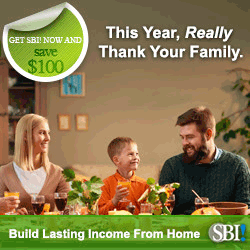 The BEST SBI! promotion of the year – Good through December 25 at midnight, buy one-get one free!  The first site becomes active immediately – you have 9 months to activate the second site.  You can also give one site as a gift, or split the purchase with someone and each get a site for half-price.  This promotion generally only happens once a year.  Here is your chance for the best business building program available.
What is SBI!?  It is everything you need to build an online business – the instructions and all the tools.  It is designed so the average person with no computer experience can learn how to build a successful website that generates revenue.  There are many different methods you can use to earn money for your site and SBI teaches you about all of them, so you can decide what is the best for you.
They have a 10-day action guide that takes you step-by-step from deciding what to make your site about to how to make an income.   The coolest thing is you can build a website that earns you money on a topic you already know and love.  My most successful website is about Vintage Barbie dolls – something I collected for years.
My entire life I wanted to be able to work from home, self-employed, doing my own thing.  I searched for the solution for over 20 years.  When the internet and eBay came into the picture, I knew I could make money (and I did), but eBay is hard work and although you can make money, you aren't building a business that will work for you.  Everyday you have to find stuff to sell, list, pack, ship, over and over and over again.  (If you're interested, check out  Why SBI! is better than eBay)
Before SBI I sold Vintage Barbie Dolls and clothing on eBay – now instead of paying eBay, they pay me and I like that much better!  Also, I can not even touch my websites for weeks and they still earn money – it goes without saying that if you didn't work eBay for two weeks you couldn't make any money!
I give thanks for SiteBuildIt everyday.  It taught me how to get the freedom I've always wanted.  In less than three years I was able to walk away from a very well paying job and the first year after that I doubled what I had been making.
(You can ready my story here – My Success Story – What a Long, Strange Trip it's Been –
It is the same story that is featured here – Today is the first day of the rest of your life)
SBI! isn't for everyone, but for many of us it has allowed us to make our dreams come true!  If you want to learn more, visit SBI! – Build An e-BUSINESS, or check them out on Facebook.
Comments
comments